Kyiv to LA is a joint exhibition and residency project that supports Ukrainian arts when Ukrainian sovereignty and culture are under attack. Organized by Marathon Screenings curator Asha Bukojemsky, the initiative invites six Ukrainian artists and art historians to participate in a Los Angeles based residency, culminating in a public program of talks, screenings, and events.

The project marks a unique collaboration with several LA-based organizations including: 18th Street Arts Center; Institute of Contemporary Arts, Los Angeles (ICA LA); GRI Scholars Program; Villa Aurora Thomas Mann House (VATMH); California Institute of Technology (Caltech); The Center for European and Russian Studies, UCLA; The Fulcrum; and Art at the Rendon. Additional programming hosted by e-flux in New York.

Asia Bazdyrieva Art Historian and researcher
Roman Khimei Filmmaker
Dana Kavelina Artist and filmmaker
Yarema Malashchuk Filmmaker
Zhanna Ozirna Filmmaker
Oleksiy Radynski Filmmaker and writer

About the participants:
Recognized for their work within Eastern and Western European institutions, biennales, and film festivals, this project marks the first time these artists and historians present their work to West Coast audiences. Working across mediums and interdisciplinary research, their practices build new narratives by deconstructing imperialist mythologies and envisioning new, sustainable futures.

Kyiv to LA is made possible by a generous grant from Nora McNeely Hurley and Manitou Fund.

Press: KCRW, Hyperallergic, Deutschlandfunk.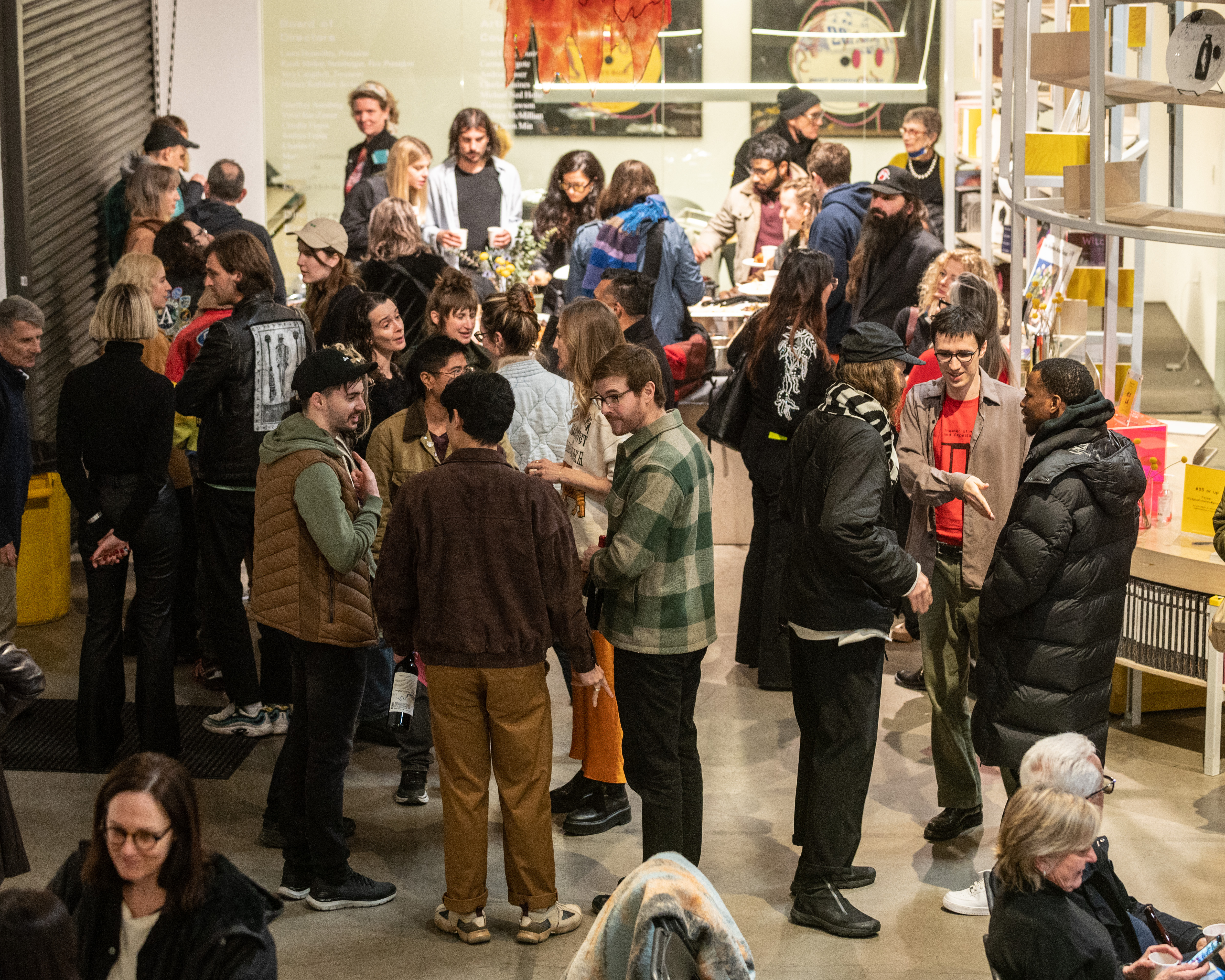 PROGRAMS:

January 11
Inaugural Kyiv to LA event
Institute of Contemporary Arts, Los Angeles
Potluck dinner and screening with artist Yarema Malashchuk. Photos: Nick Agro

February 25
Commemorating the 1 year anniversary
Hall of Nations, Balboa Park, San Diego
Screening and conversation with Roman Khimei and Yarema Malashchuk to commemorate the one year anniversary of the full-scale invasion, with House of Ukraine.

March 9
Class Lecture; open to the public
California State University, Northridge
Class lecture and screening with Roman Khimei and Yarema Malashchuk.

March 18
Reconstructing creativity at times of war
The Fulcrum, Los Angeles
Conversation and book sale with the founders of Theater of Hopes and Expectations and fundraising publication Oberih.

March 30
Explosions Near the Museum
Art at the Rendon, Los Angeles
Screening and conversation with Roman Khimei and Yarema Malashchuk about thier most recent film featuring the looting of the Kherson Museum of Local Lore.

April 06
Infinity According to Florian
e-flux Screening Room, Brooklyn
New York premier of Oleksiy Radynski's Infinity According to Florian followed by a discussion.

April 20
Yes, Russia Is Still an Empire, But This Won't Last Long
UCLA, Los Angeles
Discussion with art historian Asia Bazdyrieva and filmmaker Oleksiy Radynski as they expand the territory of decolonial discourse by examining Ukraine's anti-imperial war against Russia. Moderated by sociocultural anthropologist Laurie Kain Hart.

April 23
Infinity According to Florian; Screening with Oleksiy Radynski.
UCLA James Bridges Theater, Los Angeles
What is Earth? What is a solar system? What is humanity? Who is Florian Yuriev? Why did he build a UFO building in Kyiv? Infinity According to Florian deals with these questions, related to the legendary figure of Kyiv-based architect Florian Yuriev. This film also recounts why capitalism is a thing of the past, and what happens when you divide one by infinity.

May 10th
Thomas Mann House, Pacific Palisades
Screening and conversation with VATMH Distinguished Visitor, filmmaker Dana Kavelina featuring two films: Letter to Turtledove (2020) and her most recent work, It can't be that nothing can be returned (2022), a science fiction video set in post-war Ukraine.

May 17
Caltech, Pasadena
Screening and lecture with art historian and researcher Asia Bazdyrieva. Bazdyrieva will address key questions which sit at the core of Geocinema — a documentary-led research project that reframes Earth sensing and imaging processes.

June 01
No Milk, No Love! Resourcification as Production of Territory
e-flux Screening Room, Brooklyn
Art Historian and researcher Asia Bazdyrieva will speak about resourcification, extractivist policies and the sociotechnical imaginaries of the future as a follow up to her 2022 e-flux article, No Milk, No Love.

July 9
Screening with Zhanna Ozirna
Outdoor screenig featuring Encounter (2016), The Adult (2019), Grace (2017), and her current work in progress, Ground Zero. Hosted by artist and writer Julia Tcharfas, this event celebrates the culmination of Kyiv to LA, and a last goodbye to Zhanna before she returns to Ukraine.



BIOGRAPHIES + LINKS:



Asia Bazdyrieva Art Historian and researcher


Asia Bazdyrieva (b. 1986, Svitlodarsk) is an art historian whose research spans visual culture, feminist epistemology, and environmental humanities at large. Her projects focus on Soviet modernity and its ideological and material implications in spaces, bodies, and lands. She holds an MA in Art History from City University of New York and an MS in Analytical Chemistry from the Kyiv National University. She was a Fulbright scholar in 2015–2017, and an Edmund S. Muskie fellow (2017). She is currently associated with Critical Media Lab (Basel), and a resident at Transmediale (Berlin).

Bazdyrieva co-authored 'Geocinema'—a collaborative project exploring the possibilities of a "planetary" notion of cinema. Concerned with the understanding and sensing of the earth while being on the ground, the project includes vastly distributed processes of image and meaning making. 'Geocinema's work has been shown internationally, including the solo show Making of Earths at Kunsthall Trondheim Norway (2020), and group shows including Critical Zones at ZKM Karlsruhe (2020-21), Re-thinking Collectivity at Guangzhou Image Triennale (2021) and Sensing Scale at Kunsthalle Muenster (2021). They have given lecture-performances at the Ashkal Alwan Beirut, ICA London, HKW Berlin, NYU Shanghai, Matadero Madrid, and have taught at the Berlin University of the Arts, FAMU Prague, Central Saint Martins, RCA London among others. As part of 'Geocinema', Bazdyrieva was a 2018–19 Digital Earth Fellow; the project has been nominated for the Schering Stiftung Award for Artistic Research (2020), and the Golden Key prize at the Kassel filmfestival (2021).

https://transmediale.de/en/people/asia-bazdyrieva
https://criticalmedialab.ch/people/asia-bazdyrieva/
https://www.e-flux.com/journal/127/465214/no-milk-no-love/


Roman Khimei and Yarema Malashchuk Filmmakers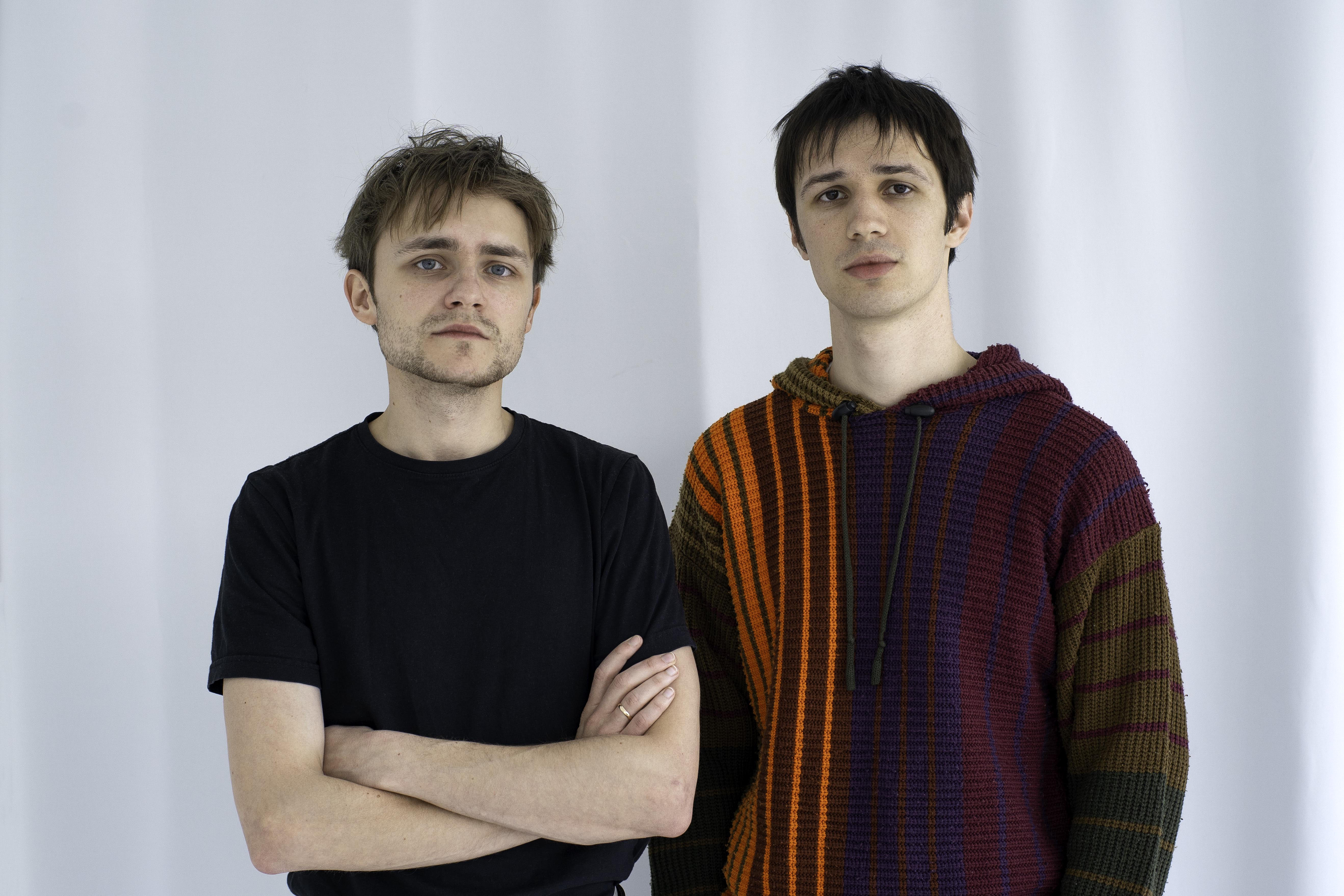 Collaborating at the edge of visual art and cinema since 2013, Kyiv-based artists and filmmakers Roman Khimei (b.1992, Kolomyia) and Yarema Malashchuk (b.1993, Kolomyia) graduated as cinematographers from the Institute of Screen Arts in Kyiv, Ukraine. They were awarded the main award of the PinchukArtCentre Prize (2020), VISIO Young Talent Acquisition Prize (2021), as well as the Grand Prix at the Young Ukrainian Artists Award (MUHi 2019). Their debut documentary feature "New Jerusalem" premiered at Docudays UA International Film Festival 2020. The film received the Special Mention Award at Kharkiv MeetDocs and the duo also participated at the Future Generation Art Prize 2021. Their video works are in collections of Frac Bretagne, Fondazione In Between Art Film, and Seven Gravity Collection. Yarema and Roman are members of the Prykarpattian Theater art collective.

https://www.yaremaandhimey.com/
https://theater-hopes-expectations.com/


Dana Kavelina Artist and filmmaker


Dana Kavelina (b.1995 in Melitopol) is a filmmaker, animator, and artist based in Kyiv/ Lviv, Ukraine (currently fled to Germany). Working primarily with animation and video, her practice includes installations, painting, and graphics that thematize military violence and war from a gender perspective. Positioning the victim as a political subject, her works investigate the distance between historical and individual trauma, memory and misrepresentation. Her works have been exhibited in: Kristianstad Kunsthalle (Sweden); Fridman Gallery (New York); Haus der Kunst (Munich); HKW (Berlin); and screened as part of the e-flux program "War and Cinema", and MoMA's screening program "Notes from the ground". In 2018, Kavelina's animated film Mark Tulip, who spoke with flowers received the Special Jury Prize at the OIFF and the Grand Prix of the KROK festival. She is a graduate of the Department of Graphics at the National Technical University of Ukraine.

https://www.vatmh.org/en/-distinguished-visitor.html
https://www.e-flux.com/video/339843/letter-to-a-turtledove/

Zhanna Ozirna Filmmaker


Zhanna Ozirna (b.1986, Kirovohrad) is a film director and screenwriter based in Kyiv, Ukraine. She is a member of the Ukrainian Film Academy and Directors Guild of Ukraine, a 2020 alumna of Berlinale Talents, and a 2022 résident at Cité international des arts. Her animation short project Anna & Gravity won Jury Special Mention for the best story pitching at the interfilm Berlin Script Lab 2020. Her short fiction The Adult was presented in the special programme The State of a New Generation at the Internationale Kurzfilmtage Winterthur 2019.

The development of her feature debut Ground Zero was supported by the Ukrainian Cultural Foundation. The project took part in international script workshops ScripTeast (2021) and Pustnik (2020, 2022), and in professional platforms La Fabrique Cinéma, Brussels Bozar Industry Day, New Horizons Studio+ and co-production markets of IFF Rotterdam Cinemart and Marché du Film of Festival de Cannes. In September 2021 Ground Zero received funding from the Ukrainian State Film Agency, however shooting was postponed due to the war and is now scheduled for August 2023. She is currently working on a new feature project Honeymoon, based on real events that have taken place in Ukraine since the Russian invasion.

https://www.storytelling.in.ua/
https://www.institutfrancais.com/en/magazine/interview/zhanna-ozirna-presents-her-debut-feature-film-ground-zero
https://www.berlinale-talents.de/bt/talent/zhanna-ozirna/profile

Oleksiy Radynski Filmmaker and writer

Oleksiy Radynski is a filmmaker based in Kyiv, Ukraine. He was born in 1984 and raised on the ruins of a Documentary Film Studio in Kyiv. After studying film theory at Kyiv-Mohyla Academy, he took part in several film education experiments including Home Workspace Program (Ashkal Alwan, Beirut) and Labor in a Single Shot by Harun Farocki and Antje Ehmann. His films have been screened at International Film Festival Rotterdam, Oberhausen International Short Film Festival, e-flux (New York), the Institute of Contemporary Arts (London), Krakow IFF, DOK Leipzig, DoсAviv, Sheffield Doc Fest, Docudays IFF, S A V V Y Contemporary (Berlin), International Studio & Curatorial Program (New York), among other places, and received a number of festival awards. As an essayist he contributed to publications including Proxy Politics: Power and Subversion in a Networked Age (Archive Books, 2017), Art and Theory of Post-1989 Central and East Europe: A Critical Anthology (MoMA, 2018), and e-flux journal.

https://www.e-flux.com/journal/125/453868/the-case-against-the-russian-federation/
https://soniakh.com/index.php/2022/10/04/russian-fossil-fascism-is-europes-fault/